In the next sections we'll introduce some of the common data structures offered by Java as part of the Java Collections Framework.
This framework offers a core set of interfaces that defines the contract available to users of the different types of collections.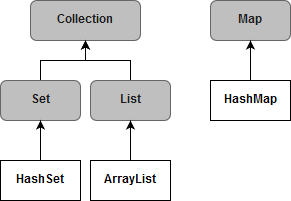 The diagram above shows the hierarchy of the interfaces (in gray background) and classes (in white background), with each subinterface or subclass providing a more specific implementation of a data structure. The diagram only covers the classes and interfaces we'll cover in this section.
It's important to note that all these interfaces and classes are generic, with the type parameter representing the type of element they are storing, for example a list of integer numbers can be represented as List<Integer>.
Below is a quick summary from top-to-bottom of the interfaces in the diagram:
We'll go into more detail using the concrete implementations shown in the diagram in the next sections.
| | |
| --- | --- |
| | It's important to read the documentation of the actual implementation classes before using them. |